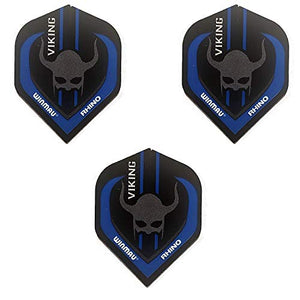 Comes with 3 100 Micron Standard Extra Strong Flights
The Vikings are infamous for their plundering ways. But many of them actually travelled to other countries to settle peacefully and farm or craft, or to trade goods to take back home.
The days of the week are named after Viking gods.
Forget almost every Viking warrior costume you've ever seen. Sure, the pugnacious Norsemen probably sported headgear, but that whole horn-festooned helmet look? Depictions dating from the Viking age don't show it, and the only authentic Viking helmet ever discovered is decidedly horn-free. Painters seem to have fabricated the trend during the 19th century, perhaps inspired by descriptions of northern Europeans by ancient Greek and Roman chroniclers.
Vikings didn't recognize fellow Vikings. In fact, they probably didn't even call themselves Vikings: The term simply referred to all Scandinavians who took part in overseas expeditions. During the Viking Age, the land that now makes up Denmark, Norway and Sweden was a patchwork of chieftain-led tribes that often fought against each other—when they weren't busy wreaking havoc on foreign shores, that is.