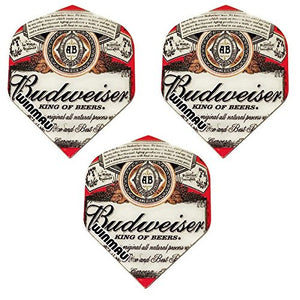 Features:
1 Set of Budweiser Standard 75 Micron Strong flights (3 Total).
Less cool is the story - and controversy - behind the Budweiser name. The Budweiser lager that we all know today was inspired by a trip Adolphus Busch took to the Budweis region of the Czech Republic. Naturally, he named his beer after the region - Budweiser means "of Budweis".
The Budweiser Clydesdales have been an integral part of the brand's marketing since 1933, when August A. Busch, Sr.'s sons presented him with a six-horse team as part of the celebration of Prohibition's repeal. You don't become marketing icons by letting any old horse join the team. According to the company, there are strict requirements for prospective Clydesdales. The horses are all geldings four years old or older that are 72 inches tall and tip the scales between 1800 and 2300 pounds.
Budweiser was still the top dog in the American beer world in 1982, but as drinkers started drifting to offerings like Miller Lite, Anheuser-Busch countered by introducing Budweiser Light. The company may not have known it yet, but Budweiser was close to peaking-in 1988 it produced a record 50 million barrels of Budweiser. On the back of humorous ads, Bud Light rose to take the number one spot on the American market in 2001.
Sure, a bottle may look more refined than a can, but it's still not the appropriate vessel. "Drinking beer from the bottle is another no-no, mostly because what you taste comes from your olfactory senses from your nose, so if you take a sip of something from that kind of bottle your nose isn't participating at all," says Beaune. "It's too small for you to get a whiff of the beer. Just like if you were drinking red wine out of a wine bottle, you wouldn't really be able to evaluate that wine."
Publisher: Winmau
UPC: 657472840759
EAN: 657472840759
Package Dimensions: 0.4 x 0.4 x 0.4 inches