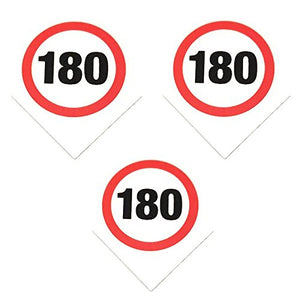 Features:
Comes with 3 standard 75 Micron Strong flights.
The highest possible score with three darts at a World Dart Federation board is 180. A player would have to hit the triple 20--three times.
A player needs 8 darts for a perfect darts game of cricket, hitting the triple 20, triple 19, triple 18, triple 17, triple 16, triple 15, single bull and double bull.
The fewest number of darts to throw a perfect game of 501 is nine. John Lowe first achieved this feat on television in the 1984 World Matchplay championships. He hit triple 20 six times in a row, followed by triple 17, triple 18 and double 18.
The fewest number of darts needed to win 301 double-in and double-out is six. You can do this by hitting double 20, triple 20, triple 20, triple 20, triple 19 and double 12. Best of luck in achieving this feat.
Publisher: Unicorn
UPC: 659424563723
EAN: 659424563723
Package Dimensions: 0.4 x 0.4 x 0.4 inches