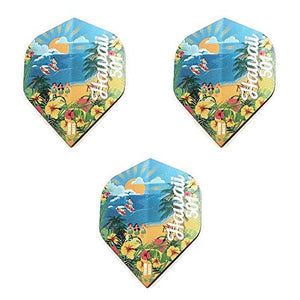 Comes with 3 Standard 100 Micron Strong flights.
Wayne Elliot Mardle (born 10 May 1973) is an English retired professional darts player for the Professional Darts Corporation events, and former player in the BDO. He now lives in Romford. Before turning professional, he worked for the Association of Accounting Technicians.
He has been known as "Hawaii 501" since 2000, a play on the title of the popular television series, Hawaii Five-O, due to the Hawaiian shirts he started wearing in 1998 for a bet, and 501 being the start score of a leg of darts. This dress sense coupled with his crowd-pleasing onstage activity (such as dancing to the interval music) saw him become one of the most popular players on the circuit.
Alongside his successful darts career, away from the oche Mardle has been a keen advocate for the support of players suffering from dartitis. In 2013 Mardle spoke about former 5 Time World Champion Eric Bristow and outlined that Dartitis was "the fear of throwing the dart" and emphasised how it "must've been awful" for Bristow. It is this support that has earned Mardle plaudits from many within the darting circle for his well articulated support and awareness on the subject.