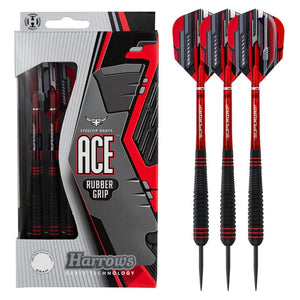 20 Gram Barrels
Rubber Barrels for improved grip and control.
Supergrip Shafts & 100 Micron flights for aerodynamic perfection
Harrows Ace Rubber Grip Darts – Experience the ultimate, non-slip performance with Harrows Ace Darts. The barrels feature a unique, vulcanised rubber grip for improved control and superior grip. Supergrip stems and 100 micron Marathon flights complete the total grip concept and provide aerodynamic perfection.