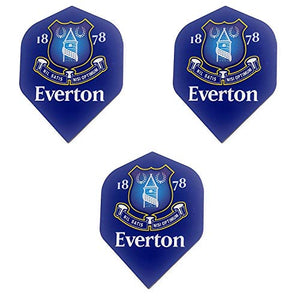 Comes with 3 Standard Everton Strong flights.
Everton have remained in the top division since 1954, and were founding members of the Premier League in 1992.
Everton hold the record for the most seasons in England's top tier, at 111 seasons out of 114 as of 2014/15. The club spent 1930/31 and 1951-54 outside of the top flight.
The club was founded in 1878, as St Domingo's FC so that people from the parish of St Domingo's Methodist Church Everton could play sport year round. A year later, the club was renamed Everton, as people outside the parish wished to participate.
Goodison Park was significantly damaged during the Second World War. This is thought to be due to its proximity to Liverpool's docks. The War Damage Commission offered the club £5,000 towards the repairs. After the refurbishment, Everton saw their highest number of attendees on the 18th September 1948. 78,299 fans gathered for the visit of Liverpool in the old first division.