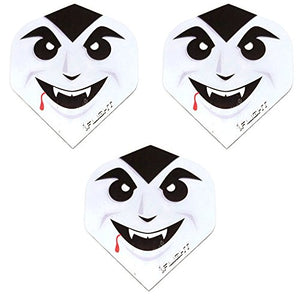 Features:
Comes with 3 standard 100 Micron Extra Strong flights.
In 1816, on a gloomy day in Lake Geneva, Lord Byron proposed a ghost story contest that led to Mary Shelley writing Frankenstein. It was also the birth of The Vampyre by John Polidori, he first-ever vampire story written in English. Polidori was Byron's personal physician and he may have based his aristocratic bloodsucker on his patient-which would make Lord Byron the basis for the bulk of vampire depictions that followed.
Stoker began Dracula in 1890, two years after Jack the Ripper terrorized London. The lurid atmosphere these crimes produced made their way into Stoker's novel, which was confirmed in the 1901 preface to the Icelandic edition of Dracula. Stoker's reference links the two frightening figures in such a way that raises more questions than provides answers, but no doubt confirms the terrifying real-life influence on his fictional world.
It's believed that Stoker based Dracula in part on a Romanian prince named Vlad Dracula, or Vlad the Impaler, who was known for skewering his enemies.
Although Stoker set his book in Transylvania, he never visited the country. Instead, he researched the setting as best he could and imagined the rest. Most of his Victorian readers didn't know the difference, especially since he added details from travel books, including train timetables, hotel names, and a chicken dish called paprika hendl.
Publisher: Designa
UPC: 657472840902
EAN: 657472840902
Package Dimensions: 2.5 x 1.8 x 0.2 inches