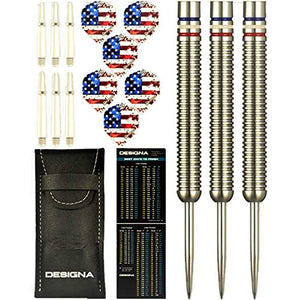 22 Gram Barrels, 90% Tungsten
Includes 2 Sets of Patriot Designa Flights, 2 Set of Nylon Shafts with rings (1x Short, 1x Medium sizes)
Comes with Designa Bar Wallet & Checkout Chart
When Alaska and Hawaii became states 49 and 50, President Eisenhower received thousands of ideas for an updated flag. Almost all of them were of a 50-star flag, including one from Robert G. Heft, a 17-year-old student at Lancaster (Ohio) High, who created the design for a class project. He was one of three to submit the version that was accepted and remains in use today. Robert got a B- on his project.
Great for Memorial Day & 4th of July!