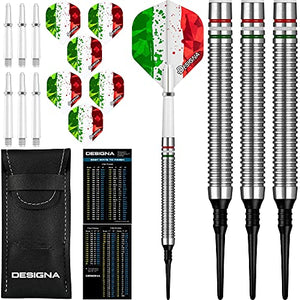 20 Gram Barrels, 90% Tungsten
Includes 2 Sets of Patriot Designa Flights, 2 Set of Nylon Shafts with rings (1x Short, 1x Medium sizes)
Comes with Designa Bar Wallet & Checkout Chart
The colours of the Italian flag represent hope (green), faith (white) and charity (red).
Rome was founded in 753 BC. The Roman Empire, named after the city where it began started in 27 BC, and ruled over much of Europe and parts of North Africa until 395 AD. After this Italy was divided into many separate states.