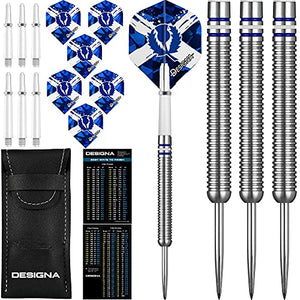 24 Gram Barrels, 90% Tungsten
Includes 2 Sets of Patriot Flights, 2 Set of Nylon Shafts with rings (1x Short, 1x Medium sizes)
Comes with Designa Bar Wallet & Checkout Chart
Scotland includes over 700 islands. These include groups called Orkney, Shetland and the Hebrides. The population of Scotland in 2011 was around 5.3 million. The capital of Scotland is Edinburgh while the largest city is Glasgow.
The Flag of Scotland, called The Saltire or Saint Andrew's Cross, is a blue field with a white saltire. According to tradition, it represents Saint Andrew, who is supposed to have been crucified on a cross of that form (called a crux decussata) at Patras.