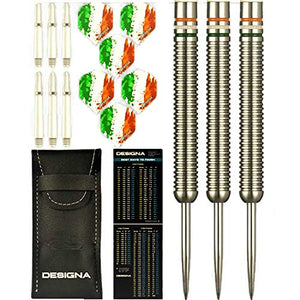 24 Gram Barrels, 90% Tungsten
Includes 2 Sets of Patriot Flights, 2 Set of Nylon Shafts with rings (1x Short, 1x Medium sizes)
Comes with Designa Bar Wallet & Checkout Chart
People & Culture. The Irish consume in average 131.1 liters of beer per year - the 2nd highest per-capita consumption after the Czech Republic. Famous Irish breweries include Guinness, Smithwicks (Kilkenny), and Harp Lager. The three most famous symbols of Ireland are the green Shamrock, the harp, and the Celtic cross.
This three leaf clover called the shamrock is one of the most widely recognized symbols of Ireland and is often referred to as the unofficial symbol of this country. The official symbol is actually the Irish harp instead.