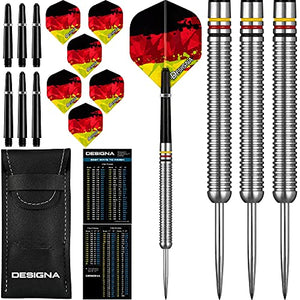 22 Gram Barrels, 90% Tungsten
Includes 2 Sets of Patriot Flights, 2 Set of Nylon Shafts with rings (1x Short, 1x Medium sizes)
Comes with Designa Bar Wallet & Checkout Chart
Germany is sometimes known as 'the land of poets and thinkers' – or das land de dichter und denker; Bach, Beethoven and Goethe were all German, alongside composers Händel, Schumann, Mendelssohn, Brahms, Wagner and R. Strauss. Some of the world's greatest German philosophers include Kant, Hegel, Schopenhauer, Nietzsche, and Heidegger.
German remains the language with the most native speakers in Europe – besides Germany having the largest population in the EU, the German language was once the lingua franca of central, eastern and northern Europe.