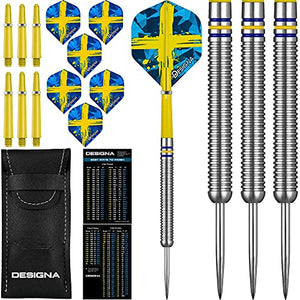 22 Gram Barrels, 90% Tungsten
Includes 2 Sets of Patriot Flights, 2 Set of Nylon Shafts with rings (1x Short, 1x Medium sizes)
Comes with Designa Bar Wallet & Checkout Chart
Sweden's flag was adopted on June 22, 1906, but its design is hundreds of years old (it probably dates from 1521). The Swedish flag is blue with a golden-yellow Scandinavian cross. The colors are derived from the Swedish national arms and the design is from the Danish flag.
The use of the colors blue and yellow originates from the nation's coat of arms. The blue which makes up the background of Sweden's flag is said to symbolize justice, loyalty, and truth. The yellow on the cross represents generosity.