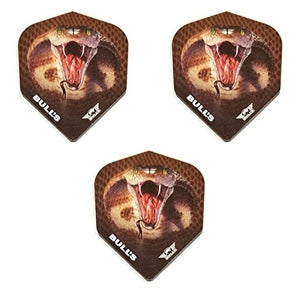 Features:
Comes with 3 standard 100 Micron Extra Strong flights.
One of the most feared and revered snakes on the planet, the king cobra is renowned for its imposing size and deadly bite. But it also has plenty of other unique qualities: a distinctive voice, remarkable nesting habits, and a name that obscures its true identity.
Like many other species of animal, male king cobras fight over females during breeding season. First, the snakes size each other up, raising their heads as high as 4 feet off the ground. Then, they wrestle. Bodies intertwined, the snakes try to pin one another to the ground. (There's no biting involved-these snakes are largely immune to their own venom.) When one of the participants is finally pinned, he leaves.
Snakes, by human standards, are not model parents: 70 percent of snake species lay eggs, usually in a convenient hole or crevice, and many will abandon their clutches immediately. But the king cobra is an exception. The reptile builds a nest.
In captivity, the king cobra's average lifespan is 17.1 years; 22 is the oldest verified age for this species.
Publisher: Bulls
UPC: 659424563785
EAN: 659424563785
Package Dimensions: 3.0 x 2.0 x 0.2 inches