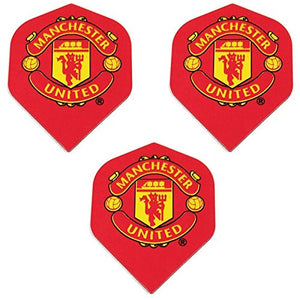 Features:
Comes with 9 standard 75 Micron Strong flights.
Another cool fact about United Fc is that, youngest appearance for the club is made by David Gaskell at the young age of 16 years and 19 days whereas oldest team player appearance is made by Billy Meredith at the age of 46 years and 281 days. Most consecutive Premier League appearances for Manchester United is made by Steve Coppell with 206 and quite interestingly shortest appearance of only 11 seconds is made by Chris Smalling.
nother interesting fact about the Manchester United is that, Bobby Charlton and Wayne Rooney are the all-time leading goal scorers for Manchester United. However, record for most goals scored in a season with respect to all competitions is held by Denis Law scoring 46 goals, most Premier League goals in a single season record is held by Dennis Viollet scoring 32 goals, most Premier League goals scored in a 38-game season record is held by Cristiano Ronaldo scoring 31 goals.
As of 2013, Since the inception of the Premier League, Manchester United have accumulated 1503 points from wins - winning 86 more games than nearest rivals Arsenal.
Old Trafford holds the record for the lowest attendance of all time. Only 13 people watched Stockport v Leicester.
Publisher: Harrows
UPC: 659424563624
EAN: 659424563624
Package Dimensions: 3.9 x 1.9 x 0.1 inches