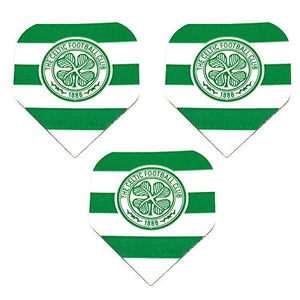 Features:
Comes with 3 standard 75 Micron Strong flights.
When you think Celtic, the first thing to pop into mind is Scottish champions, because for as long as many can remember it seems they continue to bring the Scottish League title home year on year. However, did you know that their very first league title came all the way back in 1893?! That's 5 years after the club was originally founded.
Celtic broke the record for a club game in Europe when in fact an estimated 146,433 turned out to watch them face Aberdeen in the Scottish Cup final; that is an astonishing amount of fans in one stadium!
In 1956 Celtic defeated Hibernian 2-0 in the final of the Coronation Cup, which was held to celebrate the crowning of Queen Elizabeth II. The teams invited included the best in Scotland football and English football at the time, and the final attracted a crowd of 117,000 at Hampden Park.
Publisher:
UPC: 657472840810
EAN: 657472840810
Package Dimensions: 2.6 x 1.6 x 0.1 inches