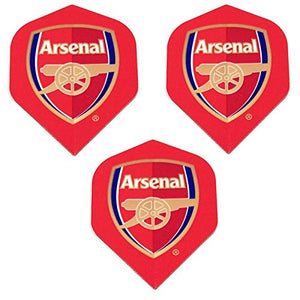 Features:
Comes with 3 standard 75 Micron Strong flights.
Arsenal are nicknamed 'The Gunners' because they were formed by a group of cannon makers at the Woolwich Arsenal in 1886.
Arsenal is the only league team still in existence that has never been relegated.Arsenal has been in top flight English football since 1919-1920.
Arsenal completed the 2003-04 FA Premier League campaign unbeaten. Their league record was 26 wins, 12 draws and 0 losses, over 38 games in total. Continuing into the 2004-05 season, Arsenal eventually went 49 Premier League games unbeaten, which was a new record for the most consecutive league games without defeat, the sequence coming to an end with a controversial 2-0 defeat to Manchester United.
Arsenal has the record of keeping a clean sheet for 10 consecutive Champions League matches. They went exactly 995 minutes without conceding a goal.
Publisher: Harrows
UPC: 659424563686
EAN: 659424563686
Package Dimensions: 3.6 x 1.6 x 0.2 inches