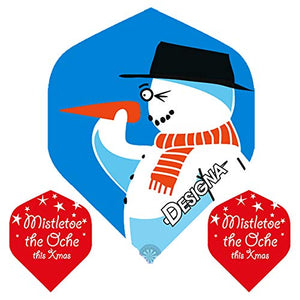 1 Set of 100 Micron Dart Flights (3 Total)
The first ever snowman documented was in the illustration from work that was entitled Book of Hours, way back in 1380 – and it was found in Koninklijke Bibliotheek in The Hague.
Snowmen became popular subjects for illustrated print material at the turn of the century, decorating postcards, greeting cards, and magazine covers. Because they could presumably be depicted as stumbling drunks while maintaining an aura of charm, alcohol peddlers frequently used snowmen in print advertisements. After Prohibition ended in 1933, snow-lushes could be seen in ads for Miller, Schlitz, and Jack Daniel's.