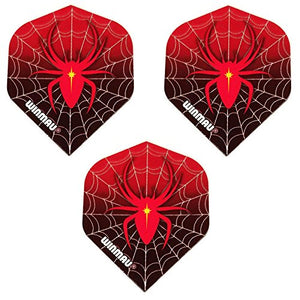 Features:
Comes with 9 standard 75 Micron Strong flights.
Most spiders are harmless to humans but a few spider species, such as the black widow, can bite humans and inject venom. Deaths from spider bites are rare however.
There are approximately 38,000 known species of spiders. Scientists believe there are probably as many more to be discovered. Spiders are found on every continent except Antarctica.
An estimated 1 million spiders live in one acre of land. The number might be closer to 3 million in the tropics. It is estimated that a human is never more than 10 feet away from a spider-ever.
Spiders are vital to a healthy ecosystem. They eat harmful insects, pollinate plants, and recycle dead animal and plants back into the earth. They are also a valuable food source for many small mammals, birds, and fish.
Publisher: Winmau
UPC: 657472840865
EAN: 657472840865
Package Dimensions: 2.6 x 2.5 x 0.0 inches