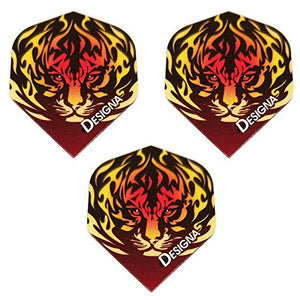 Features:
Each pack contains 9 standard 100 Micron Extra Strong flights.
The tiger is the biggest species of the cat family. Subspecies of the tiger include the Sumatran Tiger, Siberian Tiger, Bengal Tiger, South China Tiger, Malayan Tiger and Indochinese Tiger.
Tigers are carnivores, eating only meat. They mainly feed on large mammals such as deer, wild pigs, antelope and buffalo.
Every tiger in the world is unique - no two tigers have the same pattern of stripes.
Tigers that breed with lions give birth to hybrids known as tigons and ligers.
Publisher: Designa
UPC: 659424563761
EAN: 659424563761
Package Dimensions: 0.4 x 0.4 x 0.4 inches